Creating an eBay Seller Account – getting started
I believe that you are now ready to take up your first step to using eBay to generate passive income. Before you embark on this journey, make sure you can spare about two to four hours a day, spending your time on this activity. There is a specific reason why I am raising this issue, and I will return to this point again, towards the end of this book. Additionally, make sure that you have a fast Internet connection so that the time you spend on Internet is spent worthwhile. A slow internet connection would not give you the benefits that you are seeking. So, let's embark on this exciting journey to make money through eBay Arbitrage.
Your first task, of course, is to create an eBay Seller Account. Log into www.ebay.com. Depending on your country's residence, you may be directed to the specific country eBay webpage. If www.ebay.com is the only site that you can access in your country, you will have to visit this website.
If you do not have an eBay account, create an eBay account before proceeding to create your seller account.
I have indicated a screenshot to indicate where to create the Seller Account.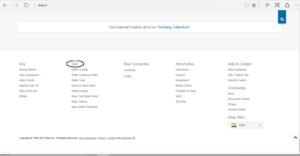 For you to sell items on eBay, you need to have a seller account. A normal account on eBay will only allow you to purchase items as a customer. You cannot be a seller. To be a seller, you will need to register yourself as a seller. Your eBay account allows you to register yourself as a seller. You will need to add appropriate information to ensure that you can be a registered seller.
One of the key things that you will need to remember is that you will need to create a PayPal account so that you can buy and sell items on eBay. If you do not have a PayPal account, you will be prompted to open a PayPal account.
Make sure you enter your bank details, details of your credit cards and debit cards, or any other financial information that you think is relevant to be entered into the PayPal account.
This step is important because all your financial transactions ultimately go to your bank account, for PayPal transfers the amount that you receive to your PayPal account to your bank.
Make sure that you enter all necessary details because the profits that you accrue will be transferred to your bank on a daily / weekly basis based on your preference.
So, with this, you have completed the process of creating the account at eBay and PayPal.
If you are in India, you will specifically have to create a PaisaPay account so that your accrued profits are transferred to your bank account. This is only specific to sellers from India and not rest of the world. Or in other parts of the world there is a glomoney option that can be used to transfer funds easily.
Finally, if you are seeking to sell items internationally, make sure that you have signed up for global shipping program too. Global shipping program allows you to ship your products to international location across the world using eBay's Power Ship Global.
Power Ship Global is a single window shipment solution that is supported by reputed Logistics Service Providers. When you list down your products for selling to international customers, eBay allows you to choose Power Ship Global and avail the logistics and shipping solutions provided by Logistic Services Providers. All you have to do is to select the appropriate logistic service provider from the list that eBay suggests. Remember, as a seller, you are responsible for packing, shipping and delivering the products to the buyers in association with the selected logistic service providers.
Purchase eBook here to learn more
Click image to learn how to become a best selling amazon author…