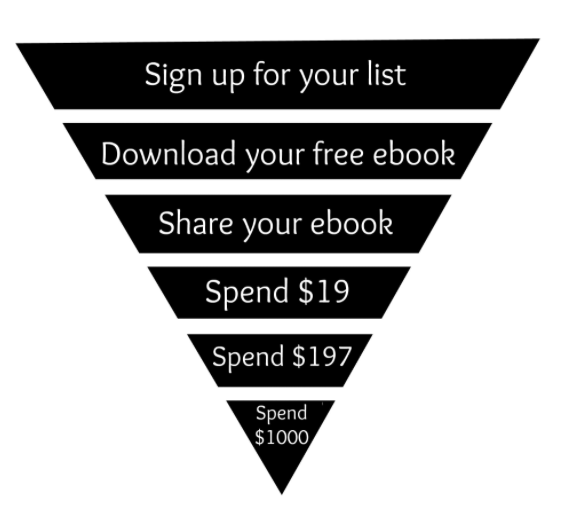 5 Steps to Create a Sales Funnel That is Highly Effective for writers
Creating a sales funnel online is highly effective when done right, and very important for the self-published author. However, it does take patience, consistency, and it is work. Make no mistake in the ultimate focus here is to increase your revenue. Your sales funnel is like a sleeve that starts with numerous people but fine tunes it down to those who are actually qualified buyers.
There are 5 steps to create a sales funnel that is highly effective.
#1 Feed the funnels front end. There are two situations where you can build the top of your sales funnel. You can generate awareness here the customer didn't know about your book prior. You can get found when the customer is looking for a solution to a problem, or say you write in a particular genre of fiction that the customer likes. This is where you can use social media, blogging, SEO, press releases, articles, etc. to make your first impressions. It is helpful to spread the word of your book in order to gather not only a audience, but feedback.
#2 Turn your inquiry responses into qualified leads is not usually hard to get someone to click on a link to receive something, such as a free ebook, but it can be more of challenge when it comes to getting those prospects to provide information that is detailed like their personal information, or the purchase of your book. To be a success you will need to build trust, and distribute content that is relevant, and be sure to add value to what the consumer is looking for. To setup up a free ebook give away you can use unbounce to have your new customer receive an automatic update of you book after subscribing. -More on how to setup a landing page up that converts later.
#3 Measure the campaigns impact when you develop a system that provides one view of multi-channel campaigns you can develop processes that are automated and can trigger specific responses based on what your potential customers interests are, and respond with the appropriate content. For example if they like fruit smoothies, and their problem is how to make the best smoothie in the morning. You can also sell them a book on smoothies, health and even perhaps running. Probably not you best bet to sell them you book on Meditation.
#4 Identify who your qualified prospects are during this sales funnel phase it is key to have an integrated approach in place with your marketing strategy. Lead scoring is a way for your company to track the actions of the prospects on your site and actually give them a score. When a predefined threshold is reached then a specific sales action takes place. A good metric to start with  for measuring is bitty, or perhaps even the unbound pages like mentioned before.
You can see more of creating a sales funnel here: Creating a sales funnel for self published Authors.
Here is an ebook buy us about how to make passive income with ebay.
Click image to learn how to become a best selling amazon author…